Our goal is to make sure your child's first visit to our office is a positive and enjoyable experience!
Your first visit!  What an exciting time and sometimes nervous experience.  Rest assured that for those kids coming for the first time we make it our goal to make a new friend and create an environment that will want them coming back again and again.
Some things you can expect from your visit: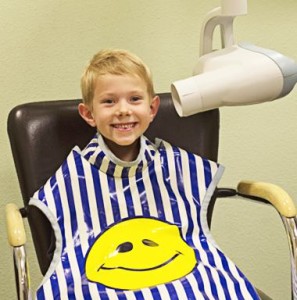 Parents accompany their child through the whole exam
X-rays depending on age and cooperation of your child<
A dental cleaning based on their age
A fluoride treatment
A dental evaluation of the teeth and gum tissue
An evaluation of the bite and alignment of the teeth
Check for proper growth and development of the teeth
Discussion and education of cavity prevention
Evaluation of oral problems like thumb-sucking or pacifier habits
A prize for every visit!
Why Choose a Pediatric Dentist?
Pediatric dentists are to dentistry what pediatricians are to medicine. After four years of dental school, pediatric dentists attend 2-3 additional years of advanced, specialized training. This residency qualifies them to best meet the diverse needs of toddlers, pre-teens, teenagers, and children with special needs.  A pediatric dental office is designed especially for children and the goal is to provide a positive experience for each and every child.
As a children only dental office, we only use the latest advances in dentistry for children. Just as a pediatrician develops his or her special talents, skills and knowledge for working with children's bodily health, a pediatric dentist does the same to more effectively manage a child's dental health.
During specialty training, pediatric dentists also receive extensive instruction in providing dental care to both handicapped and medically compromised patients of all ages.  Whether providing care within the pediatric dental office, surgical center, or hospital operating room, their training makes a pediatric dentist the authority in this sub-specialty.  
Importance of Baby Teeth
It is very important to maintain the health of the primary teeth. Neglected cavities can and frequently do lead to problems which affect developing permanent teeth. 
Primary teeth, or baby teeth are important for:
 Proper chewing and eating

 Space for the permanent teeth

 Proper guides for the Permanent teeth

 Normal development of the jaw bones and muscles

 Speech 

 Esthetics

 Front teeth replaced from 6-9 years old, back teeth replaced at 10-13 years old