Welcome To Our Glendale Pediatric Dental Office
Our West Valley Pediatric Dentist office delivers quality dental care and orthodontic care to children in Glendale, Arizona. We offer a comfortable comprehensive experience from the moment the front office door opens to the wrap-up of the appointment. We pride ourselves on making sure each child feels safe and cared for while all parents can feel enlightened and assured that their child's dental care is of our utmost concern. We work hard to address parental concerns by explaining each child's dental condition, why and what type of treatment has been planned, and how it might be prevented in the future. In all aspects, we hope every patient and parent has a positive experience in our office. Our Glendale pediatric dentists strive to do the right thing for the right reasons. We recommend treatment that, in our opinion, is best for each child's unique circumstance and will treat and protect that child as if they were our own.
Our Glendale, AZ Pediatric Dental Team
Tour Our Glendale Pediatric Dental Office
Our Glendale pediatric dental office is clean, fun, and safe to ensure your child succeeds.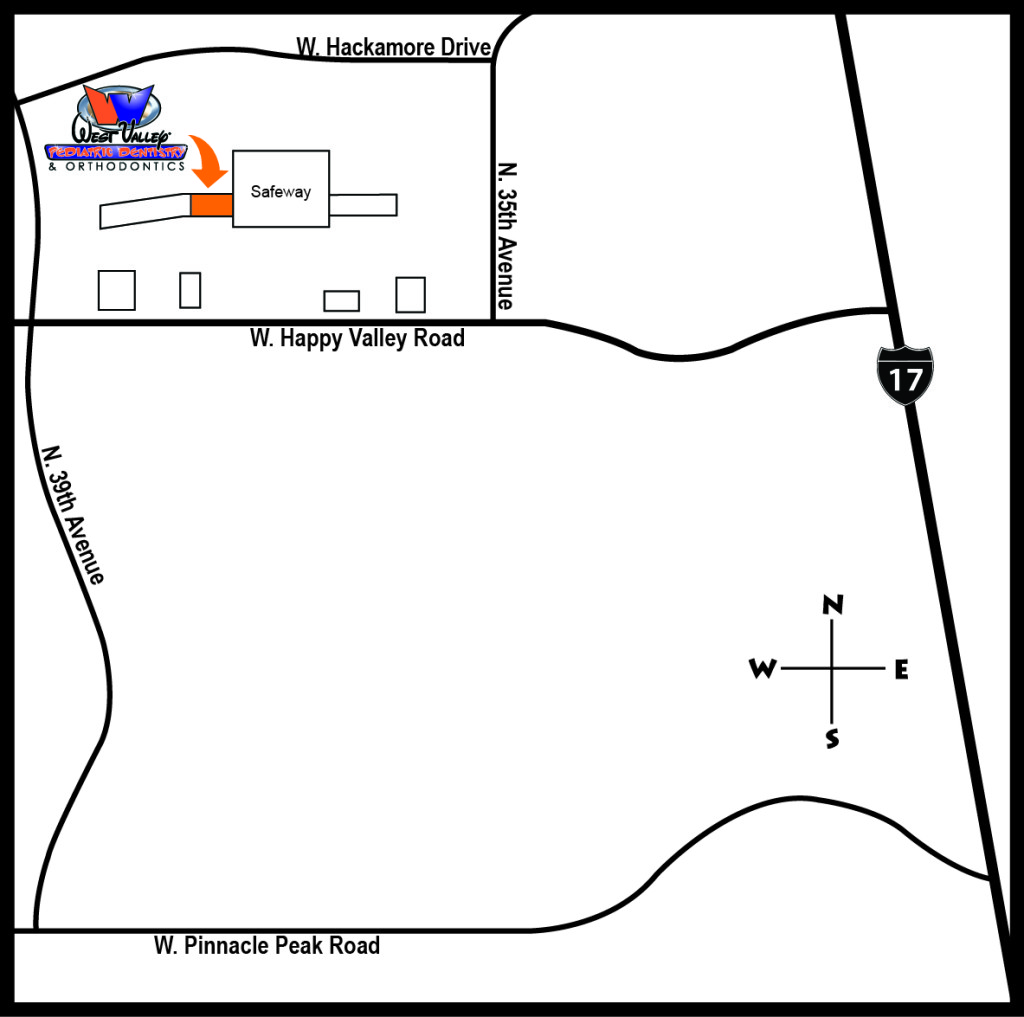 What People Say About Our Glendale Office
---

I just took my two boys here for the first time last week. We were very impressed with our great experience! Beautiful and clean office! Wonderful and friendly staff and Dr. Tyler Jackson was amazing! I highly recommend this practice. Two years later the Doctor's and their staff are still providing legendary customer service!

— J. H. (via Google)

---
Pediatric Dental Services in Glendale
First Visit
Our Goal Is To Make Sure Your Child's First Dental Visit To Our Office Is A Positive Enjoyable Experience

Pediatric Dentistry
Your skilled children's dentist in Glendale will assess teeth, gum and jaw development during a thorough dental exam. All teeth will be cleaned with a deep cleaning, and finished by a fluoride treatment.

Orthodontics
Our Glendale office provides the highest quality of orthodontic care in a fun and family-friendly environment. We offer a variety of ways to achieve this using the most advanced orthodontic systems in Glendale, Arizona.

Dental X-Rays
The Glendale, Arizona pediatric team uses the most modern and latest technology to diagnose cavities sooner. Digital radiography is one of the most important new advances that our profession has seen in quite some time.

Sedation Dentistry for Children
Sometimes called relaxation dentistry, sedation dentistry in Glendale, Arizona is a method of managing pain and anxiety during professional dental care through the use of medication.

Special Needs Dentistry
At West Valley Pediatric Dentistry we pride ourselves on being an inclusive children's dental office offering quality dental care for special needs children of Glendale, Arizona.

Children's Emergency Dental Services
Let's face it, accidents happen, and usually when we least expect it. That's why the West Valley Pediatric Dentistry team is here for you and your child. We provide children's emergency dental care 24 hours a day, 7 days a week in Glendale, Arizona.