Welcome To Our Surprise Pediatric Dental Office
At West Valley Pediatric Dentistry we pride ourselves on delivering quality dental care and orthodontics to children in Surprise, Arizona. Our warm and inviting office creates the perfect entrance to our comfortable yet comprehensive care experience. We are committed to making sure every child feels safe and valued under our care. We work hard to address parental concerns by addressing and thoroughly explaining each child's dental condition, along with the treatment plan and next steps. We base our treatment plan solely on the needs of the child and their best interest.
Our Surprise, AZ Pediatric Dental Team
Tour Our Surprise Pediatric Dental Office
Our pediatric dental office in Surprise, Arizona is conveniently located inside the Brookside Bell Professional Park.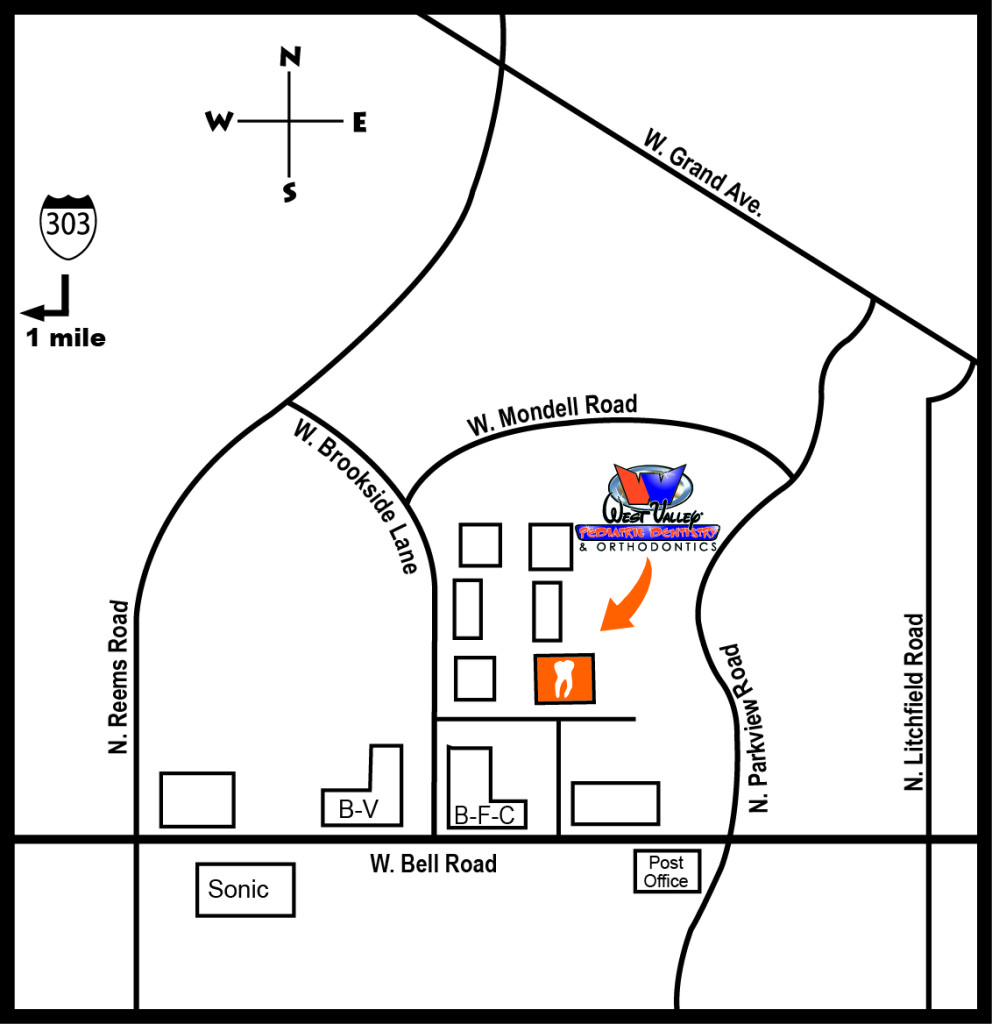 What People Say About Our Surprise Office
---

The staff is undeniably amazing. They are so sweet with all 3 of my sons and very professional. My one son is on the spectrum and they are very patient with him and very aware of his needs. The Doctors make going to the dentist fun and exciting. Not to mention they are always on time with their appointments and I never have to wait.

— Deborah P. (via Google)

---
Pediatric Dental Services in Surprise, AZ
First Visit
First dental visits with West Valley Pediatric Dentistry our pediatric dentists in Surprise, AZ will assess their oral hygiene, do a thorough cleaning, and explain how to best care for their little teeth to set them up for success. Parents will leave feeling confident with oral care instructions.

Pediatric Dentistry
During our pediatric dental visits children can enjoy a kid-friendly atmosphere that is welcoming and sure to put their fears at ease. Your children's dentist in Surprise, AZ will assess teeth, gum, and jaw development during a thorough dental exam, deep cleaning, fluoride treatment, & X-rays.

Orthodontics
Our Surprise, AZ office provides the highest quality of orthodontic care in a fun and family friendly environment. Whether you're looking for Invisalign, traditional braces, clear braces, or self-litigating braces West Valley Pediatrics Dentistry has a variety of orthodontic options for you.

Dental X-Rays
The Surprise, Arizona pediatric team uses the most modern and latest technology to diagnose cavities sooner. Our newest and state-of-the-art x-ray machines in our West Valley Pediatric Dentistry office reduce radiation exposure to patients by up to 80 percent compared to other machines.

Sedation Dentistry for Children
Sedation dentistry helps our pediatric dentists to provide safe, comfortable dental treatments for patients with special needs or anxiety. At West Valley Pediatric Dentistry we offer various sedation dentistry options that include but are not limited to inhalation sedation, oral sedation, & more.

Special Needs Dentistry
West Valley Pediatric Dentistry prides itself on being one of only a few facilities within the Phoenix metropolitan area providing routine special needs dentistry. We are committed to providing the highest quality care for children with downs syndrome, autism, cleft lips/palettes, & more.

Children's Emergency Dental Services
West Valley Pediatric Dentistry team is here for you and your child. We provide children's emergency dental care 24 hours a day, 7 days a week in Surprise, Arizona. You don't have to face a crisis alone with your local pediatric dentist by your side!